Written by Charlie KaufmanDirected by Charlie KaufmanCast:
Philip Seymour Hoffman, Samantha Morton, Catherine Keener, Michelle Williams, Tom Noonan, Hope Davis, Emily Watson, Dianne Wiest, Jennifer Jason Leigh •
Casting by:
Jeanne McCarthy •
Director of photography:
Fred Elmes •
Music by:
Jon Brion •
Film editing by:
Robert Frazen •
Costume designer:
Melissa Toth •
Production designer:
Mark Friedberg •
Produced by:
Anthony Bregman, Spike Jonze, Charlie Kaufman, Sidney Kimmel •
Executive producers:
Ray Angelic, William Horberg, Bruce Toll
Studio:
Sidney Kimmel Entertainment, Likely Story, Projective Testing Service, Russia Inc. •
Distributed by:
Sony Pictures Classics •
Country:
United States •
Runtime:
124 min •
Language:
English/German •
Release date:
October 24, 2008 •
Budget:
US$20 million •
Box office:
US$4,393,681 (worldwide)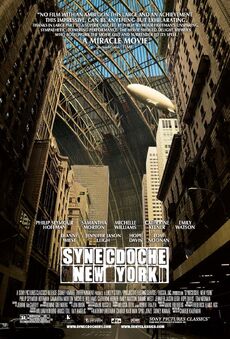 Synecdoche, New York is a 2008 film written and directed by Charlie Kaufman. It is Kaufman's first movie as a director, although Spike Jonze, who directed some of Kaufman's past movies, served as a producer.
Philip Seymour Hoffman stars as Caden Cotard, a theater director whose life unravels after he is granted a MacArthur Genius Grant and decides to stage an massively elaborate, impeccably honest production inside of an immense warehouse in Broadway. In the process, Caden becomes involved with several women, and ultimately gets lost in his work.
Although it failed to make back its production budget, Synecdoche was extremely well-received by a portion of critics. The movie was included in many Top Ten Lists of 2008 and some considered it Kaufman's magnum opus; in 2009, Roger Ebert named Synecdoche the best movie of the decade. Conversely, a great deal of critics were negative about the film, stating it was dull, pretentious, and difficult to understand, with some going so far as to name it one of the worst films of 2008.