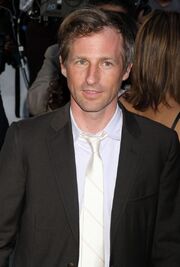 Spike Jonze
(born
Adam Spiegel
; Rockville, Maryland, October 19, 1969) is an American film director, producer, actor and screenwriter, known primarily for his collaborations with screenwriter
Charlie Kaufman
. These include Jonze's directorial debut
Being John Malkovich
as well as his second feature
Adaptation.
. Jonze is also known for co-writing and directing the 2009 film
Where the Wild Things Are
and being one of the creators of the MTV series
Jackass
.
[1]
Jonze has also gained notoriety as a music video director, having worked with artists such as R.E.M. and Beastie Boys and being a frequent collaborator of friend Björk. Jonze has also created, along with Chris Cunningham and Michel Gondry, the series of DVDs Directors Label, dedicated to directors of music videos and first released in 2003 by Palm Pictures.[2]
Jonze is an accomplished commercial director, having been nominated for the Directors Guild Award for Outstanding Directorial Achievement in Commercials in 2006 for his body of work. He is also a one-time Academy Award nominee for directing Being John Malkovich.[3]
References
Edit