Story by Charlie Kaufman, Michel Gondry and Pierre Bismuth
Screenplay by Charlie KaufmanDirected by Michel GondryCast:
Jim Carrey, Kate Winslet, Kirsten Dunst, Mark Ruffalo, Elijah Wood, Tom Wilkinson •
Casting by:
Jeanne Mccarthy •
Director of photography:
Ellen Kuras •
Music by:
Jon Brion •
Film editing by:
Valdís Óskarsdóttir •
Costume designer:
Melissa Toth •
Production designer:
Dan Leigh •
Produced by:
Anthony Bregman, Steve Golin •
Executive producers:
Georges Bermann, David Bushell, Charlie Kaufman, Glenn Williamson
Studio:
Anonymous Content, This Is That Productions •
Distributed by:
Focus Features •
Country:
United States •
Runtime:
108 min •
Language:
English •
Release date:
March 19, 2004 •
Budget:
US$20 million •
Box office:
US$72,258,126 (worldwide)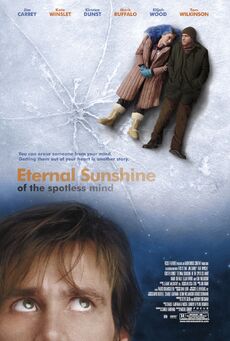 You can erase someone from your mind. Getting them out of your heart is another story.
—Tagline
Eternal Sunshine of the Spotless Mind is a 2004 film directed by Michel Gondry and written by Charlie Kaufman. The second collaboration between Kaufman and Gondry, Eternal Sunshine is a romantic drama with sci-fi elements.
The movie stars Jim Carrey and Kate Winslet as former lovers Joel and Clementine. After Winslet's character undergoes a surgical procedure to erase her memories of Joel, he decides to do the same, but ends up reacting differently to the process. Most of the movie takes place inside Joel's mind over the course of one night.
The greatest financial success of Kaufman's career, Eternal Sunshine of the Spotless Mind was also critically acclaimed for its inventiveness and audacity, with many critics naming it one of the best movies of the year. Kaufman won his only Academy Award yet for writing the movie, and Kate Winslet was also nominated for her commended lead performance. Gondry's direction, described as daring and lively, as well as Carrey and the rest of the cast's acting also received substantial praise. Since 2004, Eternal Sunshine has attained cult status.