Written by Charlie KaufmanDirected by George ClooneyCast:
Sam Rockwell
, George Clooney, Drew Barrymore, Julia Roberts, Rutger Hauer •
Casting by:
Ellen Chenoweth •
Director of photography:
Newton Thomas Sigel •
Music by:
Alex Wurman •
Film editing by:
Stephen Mirrione •
Costume designer:
Renée April •
Production designer:
James D. Bissell •
Produced by:
Andrew Lazar •
Executive producers:
Stephen Evans, Jonathan Gordon, Rand Ravich, Steven Soderbergh, Bob Weinstein, Harvey Weinstein
Studio:
Section Eight Productions, JVS & Co. •
Distributed by:
Miramax Films •
Country:
United States/Germany/Canada •
Runtime:
113 min •
Language:
English/Spanish •
Release date:
December 31, 2002 •
Budget:
US$30 million •
Box office:
US$33,013,805 (worldwide)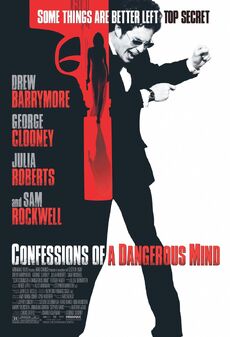 Some things are better left top secret.
—Tagline
Confessions of a Dangerous Mind is a 2002 biographical film based on the eponymous memoir of Chuck Barris. It was the directorial debut of George Clooney and his only collaboration yet with screenwriter Charlie Kaufman.
Sam Rockwell stars as Barris, a game show host and entrepreneur who claimed in his memoir to have also been a hitman for CIA. Clooney, Drew Barrymore and Julia Roberts also star.
Following the acquisition of the film rights of Barris's memoir by Columbia Pictures in the late '80s, numerous stars and directors became attached to the project and dropped before Clooney finally took it under his wing. Despite the considerable changes made to the script, which upset Kaufman, Confessions of a Dangerous Mind was well-received among critics, with much praise given to Rockwell's performance. Rockwell won the Best Actor award at the Berlin Film Festival of 2003 for his work in the film.