Written by Charlie KaufmanDirected by Spike JonzeCast:
John Cusack
,
Cameron Diaz
,
Catherine Keener
,
John Malkovich
, Orson Bean, Charlie Sheen •
Casting by:
Justine Baddeley and Kim Davis-Wagner •
Director of photography:
Lance Acord •
Music by:
Carter Burwell •
Film editing by:
Eric Zumbrunnen •
Costume designer:
Casey Storm •
Production designer:
K.K. Barrett •
Produced by:
Steve Golin, Vincent Landay, Sandy Stern, Michael Stipe •
Executive producers:
Charlie Kaufman, Michael Kuhn
Studio:
Propaganda Films, Gramercy Pictures, Single Cell Pictures •
Distributed by:
USA Films •
Country:
United States •
Runtime:
112 min •
Language:
English •
Release date:
October 29, 1999 •
Budget:
US$13 million •
Box office:
US$32,382,381 (worldwide)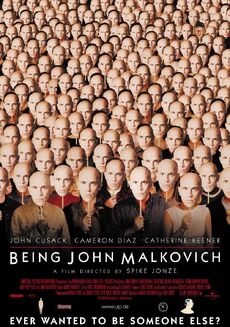 Ever wanted to be someone else? Now you can.
—Tagline
Being John Malkovich is a 1999 film directed by Spike Jonze. Usually categorized as a fantastic comedy/drama, this is Jonze's directorial debut as well as the feature debut of screenwriter Charlie Kaufman.
Starring John Cusack, Cameron Diaz and Catherine Keener, Malkovich tells the story of an unhappily married puppeteer who finds in his new work area a portal into the mind of the movie actor John Malkovich. The portal allows him to see through Malkovich's eyes and feel what he's feeling for 15 minutes.
Being John Malkovich was met with very positive reception, and critics lauded its creativity, humor, and originality. Much praise was reserved to the cast, especially the performances of Malkovich and Keener. Keener went on to be nominated for the Academy Award for Best Supporting Actress for her performance, and the film was also nominated for Best Director for Jonze and Best Original Screenplay for Kaufman.